ABOUT STEM SWAG
We've taken the tradition of classic flowers and mixed it with modern day swagger to create STEM SWAG. Since most store bought bunches are unoriginal and anything custom is overpriced, we crafted a savvy solution for unique flowers. STEM SWAG's mobile flower pop-up allows guests to customize their own floral creations and build bouquets to their liking. With the belief that everyone should stop and smell the roses, STEM SWAG was grown.
FLOWERS FOR ANY EVENT
Life can be complicated so we're making it easy to relish in the simplicity and beauty of fresh flowers. Birthday parties, anniversary celebrations, bridal or baby showers, brunches, dinner soirees, and employee appreciation are just a few events where STEM SWAG bouquets can make someone's day.
PLANNING THE PERFECT POP-UP
Creating a memorable experience for your guests with STEM SWAG is simple. First, tell us a little about your event by answering a few quick questions. We'll use our flower brains to determine the best recommendations for your shindig. Once we lock in the basics, we'll work with you to customize an experience that will delight your guests. Leave the logistic to us. We'll do the heavy lifting and let you take all the credit when the rave reviews roll in.

ADD SOME ATTITUDE
Options for customization are endless and our specialty. Need recommendations or just indecisive? Our creative gurus have the skills to pimp your floral pop-up. Customization can range from a completely themed bar with specialty stems or live in the details for the right touches. From stickers, menus, curated colors, printed wraps, ribbon and more, we are ready to rock.
READY...SET...BOUQUET
On the day of your event, we'll show up with everything needed, including a killer display, fresh flowers, and all the tools. Our STEM SWAG crew will interact with your guests to style their bouquets and add to the good vibes while bringing our signature swagger. Your event will live on as a thoughtful takeaway that will keep the energy of the celebration alive.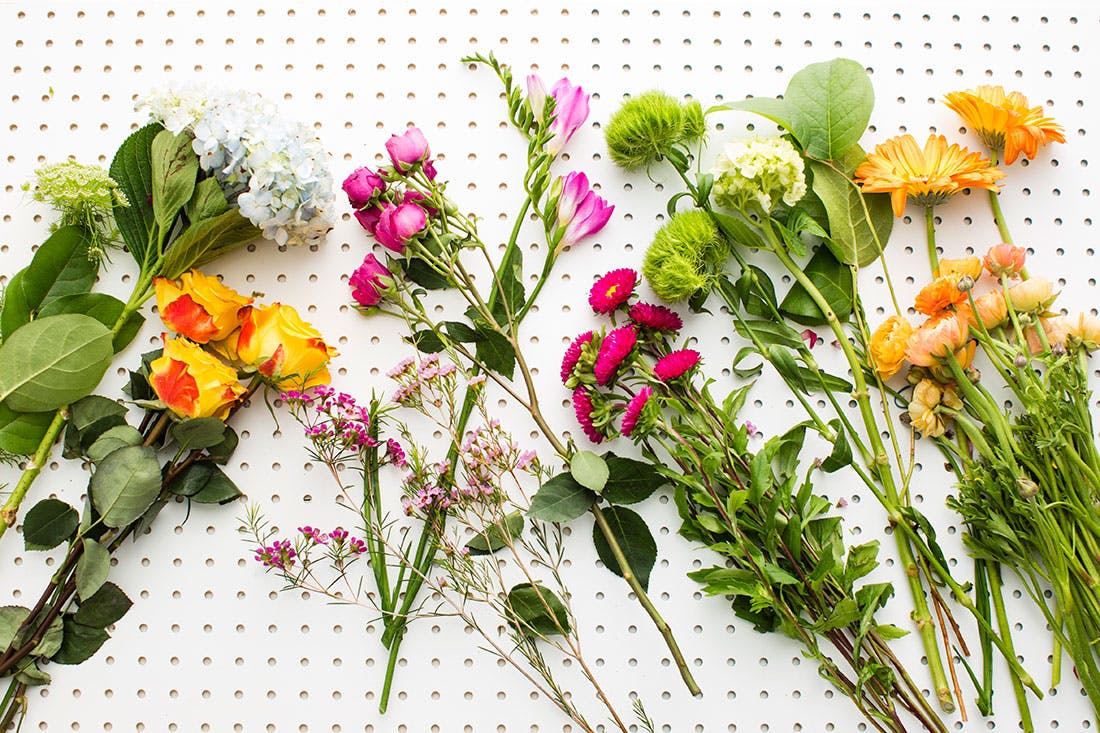 HOW IT WORKS
stem swag will supply the tools. you supply the inspiration.
CURATE YOUR EXPERIENCE
Start by allowing the STEM SWAG team to curate a one-of-a-kind experience that will make your pop-up memorable. We'll consult with you to make sure that your favorite blooms are in the mix and present options for themes, graphics, menus and more.
CHOOSE YOUR STEMS
During the pop-up experience, STEM SWAG will provide guests with all of the floral ingredients in order to build their own custom bouquets. Through an easy and interactive process, they'll choose their owns Stems, Filler Flowers, and Greenery.
CUSTOMIZE
Each bouquet is wrapped and sealed with the final touches. Want to add a message card or even funky mix-ins? We can make it happen. STEM SWAG creations aren't just flowers, they are individualized works of art!
rates
our pop-up packages makes it easy with pricing inclusive of ALL delivery, set-up, staffing and display costs. custom PROJECTS & packages are just an ask away.
FloRal fix
Our Floral Fix package is perfect for an intimate gathering. We'll provide all the supplies and stems for up to 40 bouquets. Have less guests? No worries, we'll formulate a plan so that your guests can use the same supplies to build premium bouquets with more options.
BLOOM BLISS
Add even more stems for a stunning pop-up display and to accommodate a growing guest list. The Bloom Bliss package includes enough flowers and supplies to build up to 60 bouquets for a medium sized event. Great for an anniversary party or birthday bash.
Petal perfect
The Petal Perfect pop-up packs a visual punch with a beautiful full display set and ready for building up to 100 standard bouquets. Don't quite need 100, but looking to build killer bouquets with more flowers? This pop-up works for that too!
FLOwer FANatic
STEM SWAG's best valued pop-up package suited for a large event. If you want to wow guests with a bountiful display of blooms and the most options, the Flower Fanatic package is the way to go. This includes building up to 150 standard bouquets.
BUILD YOUR OWN BOUQUET BAR
Our pop-up package pricing is a jumping off point to build your bouquet bar. If your event is smaller or larger or requires customization beyond our standard packages, we are happy to build according to your needs.
OH, HEY, BOUQUETS!
CHECK OUT these snapshots of stem swag creations, our fabulous fans and some of our adventures.
CONTACT US
Ready to start planning your next event with STEM SWAG? Fill out the quick form below and we'll get back to you ASAP to start ARRANGING your experieNce.
WHere do you source your flowers and what types are available?
STEM SWAG sources our flowers from local distributors whenever possible. We have access to a wide range of florals and choose the best seasonal options so that your guests' bouquets stay fresh as long as possible. From sunflowers to specialty colored roses, there are a wide range of possibilities - just ask and we'll do our best to accommodate.
HOW does STEM SWAG staffing work?
Depending on the size of your event, STEM SWAG staffing usually ranges from 1-3 representatives. Our staff have STEM SWAG logo'd apparel as part of our standard attire, but we're happy to fit any specified dress code assigned to your event.
how much notice do you require for bookings?
We'll always try or best to accommodate, but typically need 3 weeks in advance in order to secure the proper florals, supplies and staffing.
CAN YOU DO ANYTHING OTHER THAN BOUQUETS? Let's talk customization.
Our pop-up bouquet bars are STEM SWAG's specialty, but we're skilled at so much more. Our creative gurus and event professionals are ready to build signature centerpieces, curate dynamic displays or manage your entire decor plan. Hit us up with your vision and we'll help make it a reality.
CAN STEM SWAG MATCH my color scheme OR Creative?
We can absolutely work with your color scheme, decor plan or overall theme. Just let us know and we'll present options and ideas to enhance the vibe that you're already working with. We love a good creative collaboration!